BGCAP Transit
800.456.6588
Public transportation services are available from 6:00 AM to 6:00 PM, Monday through Friday. Saturday services are available from 8:00 AM to 4:30 PM. Route times may differ, as actual times may vary according to traffic conditions, weather conditions, and other factors.
Masks are now required by Federal Law. For more information visit the CDC website.
Inclement Weather: BGCAP Transit will operate on clear roads only. Service may be delayed.
Inclement Weather Policy
No Service: BGCAP Transit will not provide transportation services.
BGCAP Transit will make a decision regarding Inclement Weather Announcements by 6AM .
If you schedule a trip and know that you cannot make it, please call a reservationist to cancel.
If a client fails to call and cancel, they will be marked a no-show.
Repeated no-shows will be turned in for evaluation and a decision will be made as to whether or not to continue to provide transportation services.
Please call 1-800-456-6588 to cancel your transportation!
Kentucky Relay Service/Disability Services
BGCAP Transit makes an impact on the lives of persons in our area who are transportation dependent. To obtain any information in an alternative format (such as for sight impaired), call 1-800-456-6588.
Language Assistance is available at no cost.
The Kentucky relay service enables the hearing or speech impaired to call the BGCAP Transit office to request service or information. To reach the Kentucky Relay Service, TDD users call 1-800-648-6056, voice users call 1-800-648-6057. Give the operator the BGCAP Transit toll-free telephone number.
BGCAP Transit Public Transportation
Frankfort Connection—From Frankfort to Lexington (call to schedule)
Danville Connection—From Danville to Lexington (call to schedule)
BGCAP Transit operates in: Anderson, Boyle, Casey, Fayette, Franklin, Garrard, Jessamine, Lincoln, Mercer, Scott, Washington and Woodford Counties.
Full Explanation of Services:
Did you know?
The cost of a ride is $1.75 PER mile, with a $5.00 minimum.
With a BGCAP Transit Pass, you can cut costs by 1/3. Instead of paying the flat rate of $1.75 per mile, the BGCAP Transit Pass drops the rate to $1.00 per mile with a $5.00 minimum.
These are sold in $20 denominations. Stop by Frankfort Central Office, Danville BGCAP Transit Stop or simply ask your driver to buy your BGCAP Transit Pass!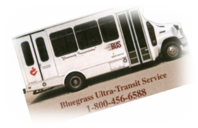 All of our buses are lift equipped.
Typically, there is NO charge for Eligible Medicaid Transportation!